2011 Summit Highlights
On 24th March 2011, more than 200 industry leaders, corporates and policy makers from more than 150 organizations assembled in New Delhi for the 2011 Annual Summit of the Sustainable Business Leadership Forum - to focus exclusively on driving adoption for sustainability initiatives in businesses by promoting the business case with decision makers: both on the production side as well as on the consumption front.
The Summit brought together key decision makers from organizations in the sectors that are going to be most impacted in the near-term:
•  Processed Food and Beverages
•  Textile and Apparel
•  Automotive
•  IT and IT enabled services
 
The Summit provided a platform for the senior management, business heads and policy makers where:
•  Leading companies presented how to make innovative decisions that respond to emerging compliance measurement and reporting requirements.
•  Senior management were brought together to explore market-share opportunities and build the business case for sustainability.
•  Progressive buyers with sustainability mandates shared their new approaches and outline how suppliers can be better prepared.
•  Business leaders shared how to manage environmental risks and costs of compliance with existing or new regulations
 
Snapshot of participants in Annual Summit 2011
Total participants: 200+
Number of participating organizations: 150+
Number of CXO's who attended: 80+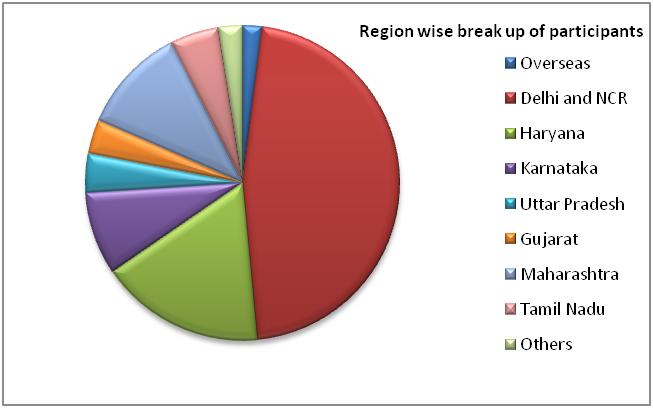 Annual Summit 2011 was supported by market leaders like SAP, cKinetics, Shell Foundation, GIZ, Intertek, Tetra Pak, CIIE- IIMA, Automotive Research Association of India and North Indian Textile Research Association, as well as several media partners.
The Annual Summit also hosted the Parivartan Sustainability Leadership Awards that showcased companies with initiatives to make their products, processes and facilities more sustainable, to increase visibility of their products and services in the market and be recognized as forward thinking sustainability leaders .
Nike Shox Deliver Men Shoes Fade Dark Blue silver Casual Trainers Sneakers 317547