Creating a Sustainable Economy by 2040
Download the Report on Pathways to 2040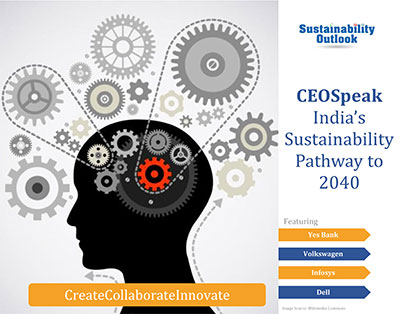 While a tremendous economic growth expected for India over the next two decades, India is also likely to be faced by an ever increasing demand for all natural resources like energy, water, materials, land and fossil fuels. Economic growth would also result in increased consumption levels leading to increased pollution, increased levels of waste generation, ultimately resulting in higher GHG emissions. This necessitates a need for India to rethink its growth strategy in terms of sustainability to ensure that India can become a sustainable economy by 2040.
In the Indian context, a sustainable economy would refer to an economically viable, environmentally sound and socially responsible economy. As India strives to become a sustainable economy, the economic (GDP) growth needs to be supported through the interplay of three key pillars of Sustainable Production, Sustainable Consumption/Living and Sustainable Livelihoods. The graphic below depicts the pathways under each of the three pillars, which taken together, can lead to the creation of a sustainable economy in India.
Sustainable Production- Need of the hour in India
There has been a recent focus on improving India's manufacturing capabilities in the last year with the government's flagship Make in India campaign. The government has rightly identified the manufacturing and industrial sector to be the biggest driver behind India's economic and social growth in the coming decades if India hopes to maintain an average of 7.5-8.5% growth.This will exert significant impact on the status of the other two pillars of a sustainable economy, namely, sustainable consumption and sustainable livelihoods.
Sustainability in India's manufacturing sector, or the lack thereof can either propel India to the heights that the government envisions or sink the country into a mess of resource scarcity, pollution and unfulfilled human potential. Thus, this brief focuses on the Sustainable Production aspect to achieve a sustainable economy in India by 2040.
Roadmap for Sustainable Production in the Indian Economy
To determine the high priority industries which are likely to have the maximum impact on overall sustainability in the industry, Sustainability Outlook prepared a framework. This framework examined the various industrial sectors in India and takes into account several parameters like Contribution to GDP, Employment Contribution, Level of Exports and the Necessity Quotient for determination of priority status.
The eight industries which emerged as high priority are:
Primary Focus Industries
Textile
Automotive
Construction
Iron and Steel
Secondary Focus Industries
Electronics and Electrical Equipment
FMCG
Oil and Gas
Metals and Mining
Identifying areas of sustainability interventionsin the high priority focus industries
The table below indicates the extent to which primary resource constraints are likely to impact each of the above identified high-priority sectors.
Degree of impacts of resource constraint on high priority sectors: Sustainability Outlook Analysis
Sectors
Primary resource constraints
Energy
Water
Raw materials
Automotive
XXX
X
XX
Textile
XXX
XX
X
Construction
X
XX
XXX
Metals and Mining
XX
 
 
Iron and Steel
XXX
X
XXX
FMCG
XX
XXX
XXX
Electronics and Electrical Equipment
XXX
XX
XXX
Oil and Gas
XXX
XXX
XXX
Deep dive: Critical success factors for sustainability in high priority industries of focus
Sustainability Outlook examined these eight sectors and determined the steps that will be critical to ensuring sustainability in these sectors.
Impacts of High Priority Manufacturing Sectors; Source: Sustainability Outlook Analysis
Sectors
Impact of manufacturing/end product use
Environmental pollution (Land, water, noise)
GHG emissions (direct / indirect)
Employee Health and safety
Consumer Health and safety
Automotive
Medium
High
High
Low
Textile
High
High
High
Medium
Construction
Medium
Medium
Medium
Low
Metals and Mining
High
High
High
High
Iron and Steel
Low
High
High
Low
FMCG
Medium
Medium
Medium
High
Electronics and Electrical Equipment
Medium
Medium
Medium
Medium
Oil and Gas
High
High
High
Medium
Pathways to 2040: Ingredients to scale solutions
Today, in many of these industrial sectors, a significant traction has been seen in moving towards sustainability. The leaders in all these segments have already addressed their low-hanging fruits and are looking towards steps and measures that can drastically impact their resource consumption.
For industrial manufacturing in India to become environmentally sustainable by 2040, new solutions are emerging. These solutions, which will be instrumental for this transition, are common across these manufacturing sectors and are likely to game-changers for industrial resource sustainability over the next few decades.
These are:
Use of Alternative Raw Materials

Smart IT Tools

Improved Process/ Technical Efficiency

Waste stream recovery/closed loop systems
Use of alternative raw materials
Development of policies and standards to encourage and allow the use of alternative raw materials in manufacturing processes
Creation of a market for recycled products by offering tax benefits
Demand from supply-chain to use greener raw materials
Demand from consumers for products with lower carbon footprint
Interventions
Industry applicability
Technology Segment
Market uptake
New polymer development
Textiles, chemicals
Emerging
Low
Alternative chemicals
Industrial
Emerging
Low
Sustainably sourced raw materials
Pulp and Paper, Textile
New
Medium
Smart IT Tools
Regulation mandating real-time online monitoring of inlet and discharge outlets
Demand from consumers to track and monitor resource consumption in the supply chain
Demand from consumers for Smart Technology that will reduce inefficiencies in the system, leading to significant resource savings
Interventions
Industry applicability
Technology Segment
Market uptake
Energy metering tools
Domestic/Industrial
New
Medium
Water metering tools
Domestic/Industrial
New
Low
Process automation and optimization
Domestic/Industrial
Emerging
Low
Intelligent building design solutions
Industrial/Commercial
New
Low
Logistics tracking solutions
Commercial
New
Medium
Data Management Systems
Industrial/Commercial
New
Medium
Reverse logistics tracking systems
Industrial/Commercial
Emerging
Low
Apart from the above mentioned ingredients, other factors that will not have a direct bearing on the industrial processes but still be crucial in determining success of these initiatives will be
Establish quantified goals for energy, water and waste

Monitoring and reporting of successfully designed and implemented 'Green' projects.

Involvement of employees and educating them regarding pressing environmental problems

Make Socially responsible Investments (SRI) to support the cause of environment.

Availability of innovative financing mechanisms to support sustainability initiatives, some of which are highly resource intensive and might not be feasible for smaller players
Waste stream recovery/closed loop systems
Policies and legislation enforcing reduction of discharge and waste generation
Stringent laws on hazardous waste disposal and landfilling
Promotion of use of recycled substances by offering tax benefits
Value in waste recovery and recycling acknowledged by manufacturers as resource constraint intensifies
Interventions
Typical Waste Streams
Technology Segment
Market uptake
Gaseous effluent resource recovery
Gaseous effluent streams
Mature
High
Liquid effluent resource recovery
Waste-water, chemicals, process water and solvents
New/Emerging
Medium
Solid waste resource recovery
Process sludge, slag, fly-ash, residues, process consumable, scrap metal
New/Emerging
Low
Waste to energy technologies
Agri-waste, Municipal solid waste
New/Emerging
Low
Construction and demolition waste recycling
Construction and demolition waste
Emerging
Low
Zero Liquid Discharge
Industrial
Emerging
Low
Improved process/technological efficiency
Development of international and national benchmarks for resource efficiency of manufacturing processes
Goals for improvement of resource efficiency through programs like the PAT Scheme
Savings seen as a result of improving water and energy efficiency as these resources get re-priced due to increased demand and stress on resources
Interventions
Industry applicability
Technology Segment
Market uptake
Energy efficient appliances
Domestic, Commercial and industrial
Mature
Medium
Water efficient appliances
Domestic, Commercial and industrial
Mature
Medium
Process/machine up-gradation
Industrial
Mature
Medium